Public Humanities Here and Now: Students Discuss the Richmond Historical Landscape
Oct. 31, 2023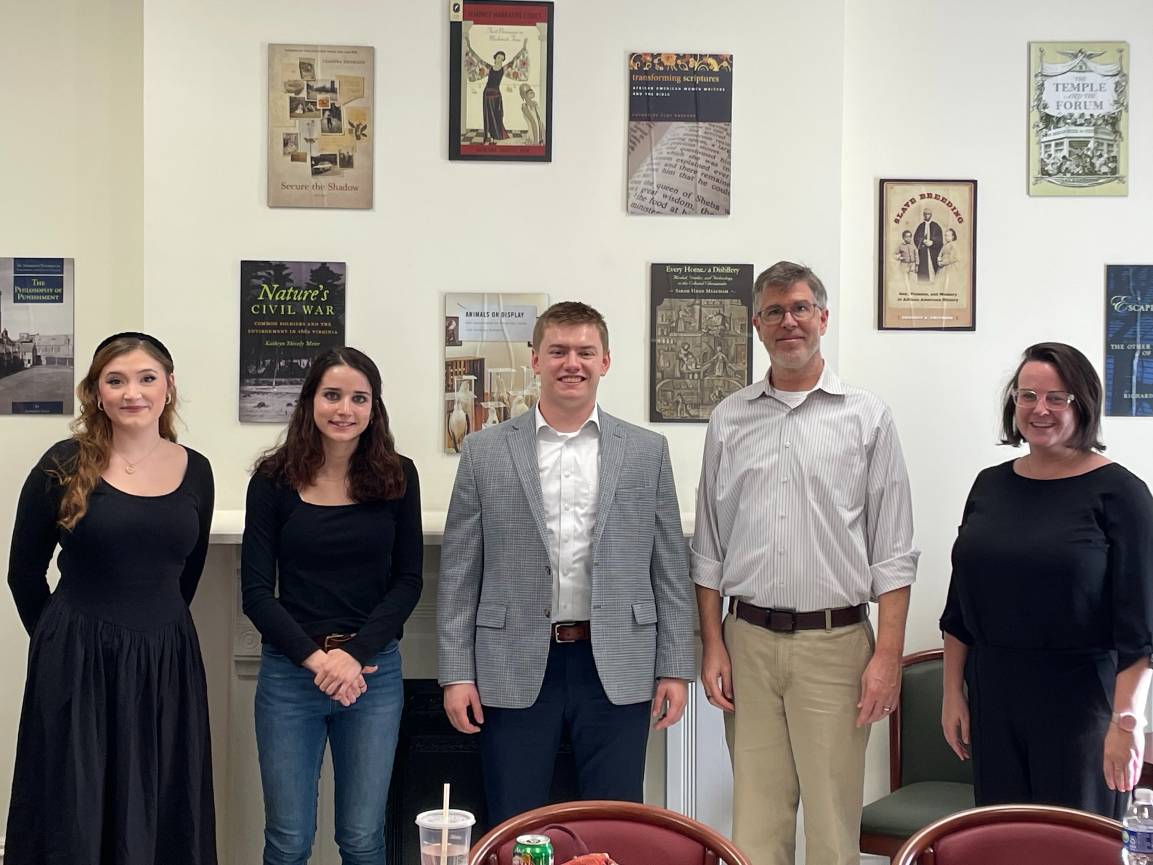 On October 30, the Humanities Research Center hosted an event for VCU students to learn about history internships. Moderated by Brian Daugherity, Ph.D., students Nadia Yendrek, Charlotte Grace Smith and Benjamin Wojcicki shared their experiences with their internships.
Senior Nadia Yendrek interned at the Chesterfield County Historical Society where she worked at the Magnolia Grange Museum House, a former plantation house, the historic Chesterfield County courthouse, and the 1892 jail on the site, which had been used until the 1950s. During her internship, Yendrek gave tours on Chesterfield County history and did research on the slaves that resided there, as there was little information known. She also worked on preserving an African school exhibit for the African American Historical Society, as well as assisted with organizing historical events. Yendrek got the chance to teach children historical games, as well as an introduction to archaeology and related arts and crafts.
Charlotte Grace Smith, a VCU Grad student, experienced her internship at Agecroft Hall education department, an English Manor house that originally was in England, but was disassembled and rebuilt in Richmond. The house had been in use since 1376. During her time at Agecroft Hall, now a Tudor Museum, Smith led field trip tours for students of various ages, organized and planned community outreach events and disseminated information about Shakespearean times and the Tudor time period. Smith thoroughly enjoyed her time at Agecroft Hall, as she had interest in theatre and Tudor times prior to her internship. She learned that she had to make the educational material digestible for different audiences, who all would have varying interests in these topics.
Benjamin Wojcicki got the opportunity to intern at SCHEV, the State Council of Higher Education for Virginia. His day-to-day tasks included culling old archival materials, correspondence of litigation files with the Office for Civil Rights that dealt with the segregation movement in the Virginia college system. Wojcicki learned how to sort through various types of files, organized the disposition schedules and worked to create agency specific retention policy. Using his knowledge, Wojcicki looked at documents and determined if there was any historical importance. He was able to broaden his horizons and gain experience that would help with any future career within history and government.
All three agree that communication, creating connections and not being afraid to ask questions are important parts of every internship. They advise to meet any and everyone, as it can go a long way, and that it is important to be able to quickly adapt and adopt different ways to disseminate information within different groups of people. Researching and digesting information in a personal way is very helpful to any intern within each program. These history internships allow for exposure into different careers as well as upgrading history literacy skills. It is also extremely important to understand what it is exactly you are working with personally, for your own understanding. The internships are all very hands-on, but in different ways and in a varying range of topics.
If interested in VCU's history internships, reach out to Brian Daugherity, Ph.D. for more information.