My Salvadoran Heritage
Sept. 22, 2023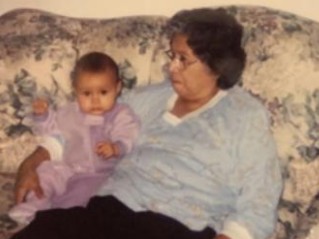 For Latinx Heritage Month, I am celebrating and appreciating my Salvadoran heritage. My maternal family is from El Salvador, immigrating to the United States between the 1940's to 1970's. It began with my great-grandfather, who became a merchant marine for the United States in 1945. Five years later, he brought my great-grandmother with him. El Salvador was so poverty stricken that my great-grandparents encouraged their daughter, my grandmother, to immigrate to the U.S. In 1961 my grandmother "My Nana" immigrated to San Francisco and I am grateful for it to this day.
Had my grandmother not immigrated, I would not be here. I would not have the life I have or the culture I appreciate. Her Salvadoran culture and my American culture were often intertwined, and still are to this day, even after her passing. My Nana got very much into baseball, so much so that she would yell in excitement whenever the Giants did something great. Along with much of my family on both sides, that's the team I support. She also loved shopping and spoiling others, and I believe I got my shopping habits from her. Salvadoran culture to me, how I remember her, is large family parties, blasting Latinx music, dancing with everyone, traveling down to 'The City' (what Californians call San Francisco) to see family and eating casamiento for breakfast on the weekends.
The culture of El Salvador goes way beyond me, and way before my time. El Salvador used to be composed of indigenous states and inhabitants, until it was conquered and became a Spanish colony in the early 1500s. El Salvador got the chance to break through the chains of colonization due to the occupation of Napoleon in Spain, which had led to revolts all across Spanish America. Though there were wars and battles, El Salvador didn't actually fight any war to become independent. Instead, independence was proclaimed on September 15, 1821 with the Act of Independence of Central America. Every year on that day, El Salvador, along with four other Central American countries, celebrate independence day which also marks the beginning of Latinx Heritage month. The celebrations, both in the U.S. and El Salvador, consist of loud and colorful parades with floats and traditional dances as well as lots of cultural food.
I appreciate where my family came from and what they had to do to build lives for themselves and the generations to come. I understand that it was likely difficult to leave their home country for an entirely new place, unsure of what would happen in the future, but they made the United States their home, and have spread their culture far and wide. We are part of some 2.5 million Salvadorans in the U.S., and myself and my family will not forget where we came from. Dios, Unión, Libertad.
Sources:
Emilee Haines, "Act of Independence from Central America"
El Salvador Profile - Timeline, BBC News, May 2018