State Delegate Schuyler VanValkenburg receives alumni achievement award
April 13, 2023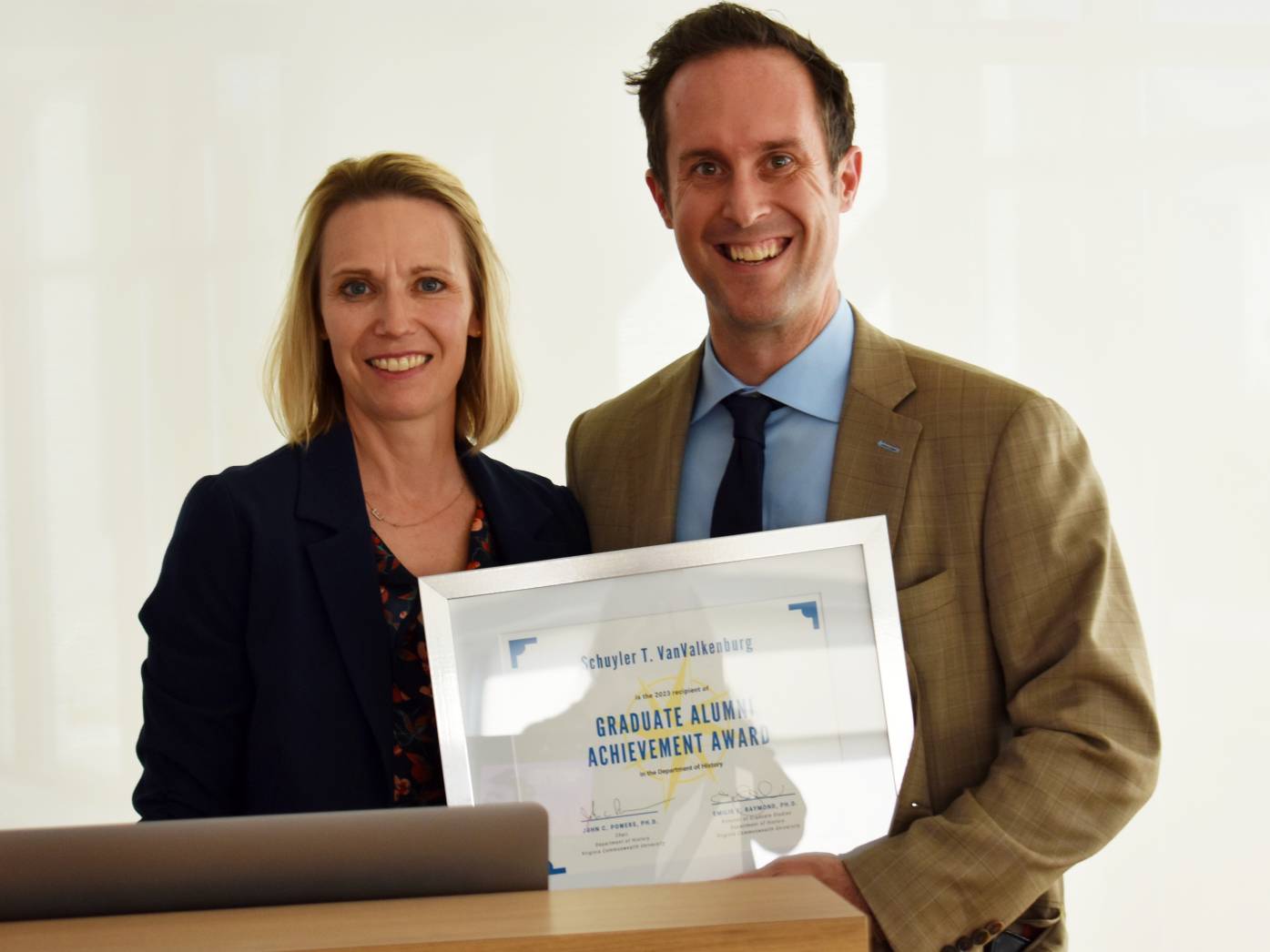 The VCU History Graduate Alumni Achievement Award recognizes an alumnus of the M.A. program who has made distinguished contributions to their profession or chosen field of endeavor, and represents the department's highest form of recognition bestowed exclusively on graduate alumni.
VCU's history department is proud of our graduate program's long record of engaging with the teaching profession. In our program, these graduate students deepen their engagement with sources, methods, and subjects that will enrich their classrooms, and they make important connections with others outside the teaching field.
Our department is also proud of our graduate program's record of training students for public service. Our students and alumni work in public policy, hold leadership positions in government agencies, and serve the democratic process.
It is rare, though, that our graduates combine both of these arenas in such a complimentary way, which is why we selected Virginia state delegate Schuyler T. VanValkenburg as the 2023 recipient of the History M.A. Alumni Achievment award.
Delegate VanValkenburg earned his M.A. in history at VCU in 2010. His thesis, titled "Defying Labels: Richmond NOW's Multi-Generational Dynamism" and directed by John Kneebone, Ph.D., charted the rise of Richmond's chapter of the National Organization for Women in the 1960s.
Meantime, Schuyler launched his teaching career in Henrico County Public Schools where he worked at Short Pump Middle School and Glen Allen High School, where he currently teaches government and history classes, led a team for the "We the People" civic competition, and established the Rho Kappa history honor society.
In 2017, Schuyler successfully ran for the 72nd District in the Virginia House of Delegates. He was elected on a platform centered around investment in public education and health care and has been twice reelected. As Delegate, he serves on the Education, Privilege and Elections, and General Laws committees. Recently, he announced his candidacy for the 16th District in the Virginia Senate.
Schuyler has been an excellent ambassador for our program, and his career has shown the range and impact of a graduate degree in History. We proudly honored him on April 13, 2023.