A Tale of Two Bloomer Costumes
May 10, 2022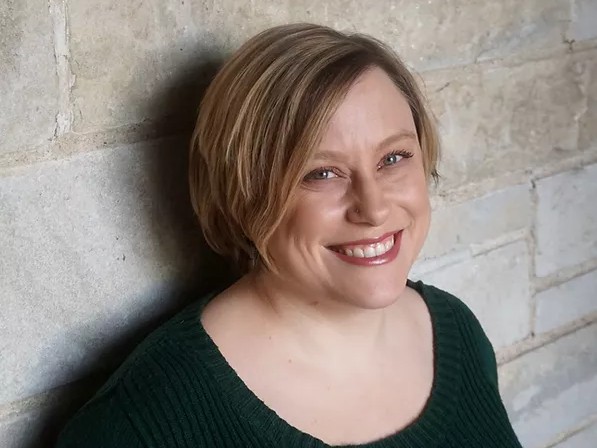 Laura Ping graduated from VCU in 2007 with an M.A. in history, and went on to earn a Ph.D. at City University of New York (CUNY). She sat down with Emilie Raymond to discuss her most recent article "A Tale of Two Bloomer Costumes: What Mary Stickley and Meriva Carpenter's Bloomers Reveal about Nineteenth Century Dress Reform," published in Dress: The Journal of the Costume Society of America Vol 47, 2021 pp. 139-153.
Tell us about "A Tale of Two Bloomer Costumes." Who are Mary Stickney and Meriva Carpenter, and what DO their bloomers reveal about Nineteenth-Century Dress Reform?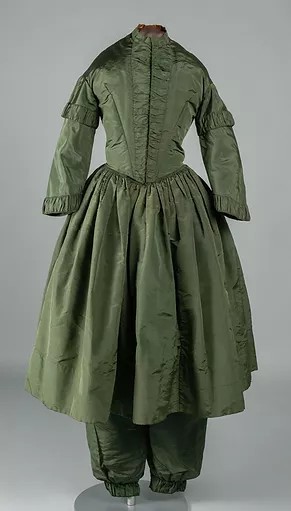 Mary Stickney was an abolitionist in Philadelphia and a member of the Philadelphia Female Anti-Slavery Society. Sometime around 1851 Stickney modified a fashionable dress into a bloomer costume by cutting several inches off the skirt and using it to line a pair of cotton trousers, which were worn underneath the dress. This method for constructing a dress reform garment and the fact that the trousers were cinched at the ankles like harem pants suggests that she took the idea from Amelia Bloomer's newspaper, The Lily. Bloomer and other woman's rights advocates had adopted dress reform to symbolize women's gender equality and as a practical alternative to long skirts.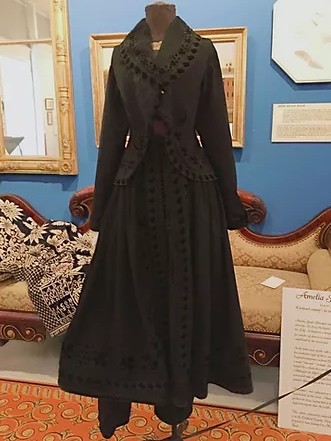 Meriva Carpenter was a painter of miniature portraits who lived in Homer, New York. Her husband was a successful businessman in the area and that is almost all that we know about her. She was not involved in an organized reform movement that left records, as Stickney was, and she did not leave letters or diaries behind. Her dress reform outfit is different in style than Mary Stickney's. Created around 1855, it was designed as a reform dress instead of modified from an existing garment. The legs of the pants are also cut straight like a man's pants as opposed to Mary Stickney's harem pants. This style was in line with an outfit recommended by health reformers. We do not know if Carpenter would have considered herself a health reformer, but she lived in the same area as many health sanitariums.
The interesting thing about these two dress reform outfits is that they both follow unique patterns as described by different sects of the dress reform movement, yet neither of them was worn regularly. The fact that they still exist after more than 150 years and that there is minimal wear and tear suggests that they were not part of these women's daily wardrobes. In my article I conclude that these outfits reveal women were interested in the dress reform movement but were not motivated to replace their regular clothing for short skirts and trousers.
How does one conduct research on items of clothing like bloomers?
Most of my research is based on reform newspapers such as The Lily and The Water-Cure Journal, which promoted dress reform and included written descriptions of the clothing. Luckily these newspapers have been digitized. Once I became familiar with the names of the editors and contributors to these newspapers, I was able to locate books and lectures written by the same people. My research also includes visual culture ranging from romanticized images of the bloomer costume on sheet music covers to satirical representations from the popular press. It was helpful for me to approach dress reform as a print conversation happening between reformers and critics as well as regular people who were writing letters to newspapers editors voicing their opinions about dress reform. I located the two extant dress reform outfits I discuss in my article by accident. I googled "bloomer costume" and found a blog written by a historical reenactor. This person had written about one of the outfits and when I emailed her for more information she told me about the other as well. The moral of the story is never overlook the collections held by small museums and historical societies.
Is this part of a larger project? And does your bloomer research intersect with your forthcoming biography of Catherine Beecher? (I'd really love to know if you are also studying Catherine Beecher's bloomers?!)
This is part of a larger project. My book manuscript Beyond Bloomers: Fashioning Change in Nineteenth-Century Dress looks at the ways in which dress reformers worked to mainstream their movement. At the same time, they promoted dress reform as an important element of white, middle-class womanhood. Dress reform was not an inclusive movement and when the popular press began publishing crude images of all kinds of women wearing dress reform clothing to police gender roles, race, and sexuality dress reformers worked harder to link their movement to traditional motherhood, patriotism, and dominant standards of beauty.
In conducting this research, I learned that the education reformer Catharine Beecher was a regular guest at health reform sanitariums. In her books on exercise, she also suggested women wear a bloomer-like outfit to make it easier to move. Beecher would not have considered herself a dress reformer, but she saw the importance of wearing comfortable clothing. She will be included in my book as an example of a woman who supported dress reform situationally (meaning she did not think it should replace fashion, but that it was appropriate for exercise) and I discuss her relationship with water cure in the biography I am co-writing.
How did your work in the VCU graduate program impact you as a scholar?
VCU was a great fit for me as a scholar because I was able to take courses in both academic and public history. I completed two internships at the Virginia Museum of History and Culture -- one in the archives and one in grant writing -- which helped me better understand how history works broadly as a profession. I was also able to learn important tricks for reading finding aids (read all the way to the bottom) and grant writing (make your point right away).